8 Incredible Tim Burton Movies ...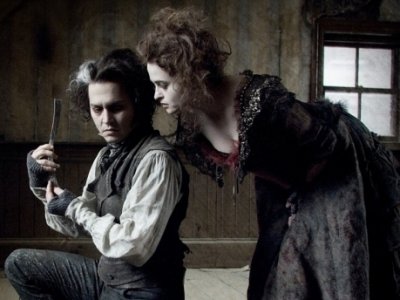 Tim Burton Movies are creative, creepy, and brilliant. This man is an incredible visionary and he's responsible for many of my favorite films. Ironically, a shared love for The Nightmare before Christmas, one of the most famous Tim Burton movies, helped bring the Better Half and I together. From animated masterpieces to visually stunning live action films, Tim Burton has created some of the most incredible worlds you'll ever see on the big or small screens. So come along with me while I take you on a journey through some of the most incredible Tim Burton movies – mind you, that he's directed!
I'm cheating to save room, because while Batman definitely is one of my favorite Tim Burton movies, I also love Batman Returns – I just want to save room for my other favorites, too! On topic, these movies were so gritty and dark, they were visually gorgeous, and they contained a lot of Burton's signature dark humor. Perfection!
2.

Pee-Wee's Big Adventure
Look, I admit it, I love Pee-Wee. I think Paul Reubens is just awesome, and I am so excited that he's brought the character back! This movie, though – it is creepy as hell and that's part of what makes it awesome. It's one of Burton's first movies, and it, too, carries his marvelously morbid stamp. Watching it as an adult is even better, because now I can pick up on all the wildly inappropriate cues.
This was the first of many Tim Burton movies to star Johnny Depp – what a match made in heaven! The great thing about this film is that it wonderfully characterizes Ed Wood's madcap genius, and it continues to show Burton's growth as a director. The pairing of Burton and Depp got a great jumping off point with this.
4.

Charlie and the Chocolate Factory
I love the original Willy Wonka & the Chocolate Factory starring Gene Wilder, but this retelling is absolutely amazing. Gene Wilder himself was not a fan, but I loved the movie – just in a different way. Johnny Depp as Willy was just marvelously creepy, and all the colors, the cinematography, and the inside jokes were classic Burton.
This is one of the most beautiful Tim Burton movies I've ever seen – and, of course, it's another pairing between Burton and Depp. And that is a good thing, because the way he and Johnny worked out the Mad Hatter was genius. The recitation of "Jabberwocky" remains one of the most chilling things I've ever heard. However, again, the effects, the cinematography, the stills, the art, the costumes – it's all signature Burton, and almost unbearably gorgeous.
6.

Sweeney Todd: the Demon Barber of Fleet Street
The same can be said for Sweeney Todd. There are so many awesome things about this movie, from the dull colors to the specific, pointed highlights, to the gritty feeling of the streets and houses, to the gruesome story and effects. I think Johnny Depp, Helena Bonham-Carter, and Alan Rickman need to start together in every film ever.
The Corpse Bride is another phenomenal Tim Burton movie, in the style of The Nightmare before Christmas. I think the story is morbidly romantic, the casting is (of course!) spot on, and the art of the stop-motion animation is absolute perfection. I love the fact that it's a Victorian setting as well, because that is so well suited to Burton's aesthetic.
Last but most certainly not least, there's Beetlejuice. No one made better use of Michael Keaton's skill than Tim Burton. This movie was just gorgeous and creepy and morbid and spectacular. I haven't seen it in forever, and now I have to go watch it. I still think this is one of the best movies Winona Ryder has ever starred in as well.
As you can see, there have never really been any Tim Burton movies I don't like. They all speak to me in some way, often by sparking my imagination and inspiring my own creativity. Honestly, that's my favorite thing about Tim Burton movies: they make me think and they make me want to create, too. I didn't include The Nightmare before Christmas, you'll notice, but that's because for that one, Tim Burton was a writer and a producer; sadly he didn't direct – although I think he might as well have. I know that future Tim Burton movies will get better and better, because the man just seems to improve with age. What do you think of his films, and what's your favorite?
Top Image Source: weheartit.com
{{#comments_count}} Show Commnents ({{comments_count}}) {{/comments_count}}