Movies like She's the Man to Watch at Your Next Sleepover ...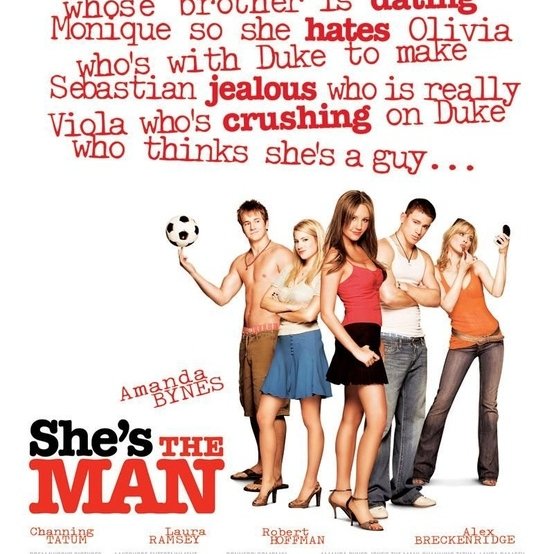 She's The Man is one of the first movies Channing Tatum starred in alongside Amanda Bynes. Amanda Bynes plays the lead role; a girl who loves to play football but her school cuts off the girls' soccer team so she disguises herself as her brother and attends a boarding school in his place to play football. In the process, she falls in love with her roommate/teammate (Tatum). One of the best comedy high school movies. Here is a list in no particular order full of more amazing movies to watch with your girls.
A high school student (Emma Stone) takes advantage of the rumor mill when a rumor about her gets out, and uses it to make money and become popular. This is an incredible movie that was loved by a lot of people because of the sarcastic comedy and great performance by Emma Stone.
2.

Raise Your Voice (2004)
Terri (Hilary Duff) is broken after her brother's (Jason Ritter) death in a car accident. To move on from his death, she wants to go to Los Angeles to attend a performing arts school but her overprotective father doesn't allow her to leave the small town they live in. She is forced to go to extreme lengths to attend her dream school. She tells her father she is going to live with her aunt but she goes to the school and prepares for a talent competition while keeping the big secret from her father.
3.

A Cinderella Story (2004)
Another popular Hilary Duff movie. This is a modern version of the popular fairytale, Cinderella. Sam (Hilary Duff) lives in California with her stepmother. She is forced to do work for her stepmother (Jennifer Coolidge) who owns a diner while attending school. She starts texting a guy after a cell phone mix-up and develops feelings for him. After talking on the phone for a while anonymously, they decide to meet at the school dance.
Haley (Missy Peregrym) is a rebellious athlete who gets sent to an elite gymnastics academy run by a strict coach (Jeff Bridges). A super cool movie about girl power that will inspire you.
5.

Bend It like Beckham (2002)
Bend it like Beckham is a British romantic comedy about an 18-year-old girl obsessed with football, determined to make a future in professional soccer but her controlling and conservative parents do not approve. It is an inspiring story about breaking stereotypes and unreasonable expectations related to women. The movie stars Parminder Nagra, and Keira Knightley who have performed really well in the movie.
Sydney White is a modern version of Snow White and the Seven Dwarfs. It stars Amanda Bynes, Sara Paxton, and Matt Long. It is a super funny movie about college students in their freshman year of college with sororities and a hell of a lot of fun. A must watch for all college movie fans and Amanda Bynes fans.
After her mother's death, a rich spoilt girl acts out and gets sent to a boarding school in England where she struggles to adjust without the luxuries provided at home. She goes through a major change and learns a lot about real friendship and life. Emma Roberts plays the main character and I could not have imagined a better actress to play this part.
8.

John Tucker Must Die (2006)
‌Three girls come together to plot revenge on their ex who had been dating all of them at the same time. A super fun movie about girl power. An absolute must-watch with your girlfriends.
9.

What a Girl Wants (2003)
The story follows an American teenager, Daphne (Amanda Bynes) who flies to England on a whim to look for her father. When she arrives there, she discovers that her father (Colin Firth) is a member of the British Upper class, and running for political office. He did not know about Daphne but welcomes her into his royal life.
10.

Material Girls (2006)
Two wealthy sisters run a cosmetic company built from scratch by their father. Due to a scandal, they are bankrupt. The sisters decide to save the company instead of following the advice of the board of the directors who recommend selling it to their biggest competitor. The sisters in this movie are no other than the gorgeous Duff sisters, Hilary Duff, and Haylie Duff who make the movie extra special.
These movies like She's the Man are super entertaining and inspiring. What kind of movies do you watch with your girls?
{{#comments_count}} Show Commnents ({{comments_count}}) {{/comments_count}}