7 Reasons to Start Watching Sherlock ASAP ...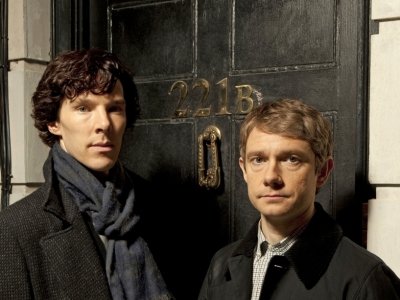 It has become such an incredible television phenomenon that I am surprised not everyone is in love with the many reasons to start watching Sherlock. Sherlock is a BBC show that tells the famous stories of detective Sherlock Holmes and his sidekick Dr. Watson. But this telling of Sherlock Holmes is like nothing you have ever seen before. The details in this show are mind-blowing and it has some of the best acting I have aver seen. While everyone loves the show for their own personal reasons, here are some of my top reasons to start watching Sherlock right now!
Without the incredible story, the other reasons to start watching Sherlock would not matter so much. Sherlock takes the beloved stories of Sherlock Holmes and puts them in a modern day setting. Classics like "A Study in Scarlet" and "The Hounds of Baskerville" are translated to present-day London and given a twist that includes cell phones, technology, and current issues. I am so impressed at how these stories, which have been around for years, can still be relevant in today's world.
What makes Sherlock so unique is how the seasons are set up. Each season is comprised of 3 episodes, with each episode being an hour and a half long. Every episode is basically its own movie. It makes it that much easier to binge watch. Watch one episode every night for 3 days and you have one season in the bag. Unfortunately, it makes it that much more unbearable when you have to wait for the next season after only a few days.
Every episode leaves you sitting on the edge of your seat. Literally. The story writers do an expert job of crafting individual episodes that end with an overarching storyline. You may think that the first few episodes are unrelated, and then the season finale comes in and your mind is blown away. And don't get me started about the season 2 ending. I was left in tears and had to wait an entire year to get answers.
If any of these reasons to start watching Sherlock aren't enough, then there is Benedict Cumberbatch. He has even been called "the best Sherlock Holmes" by Steven Spielberg. His ability to embody such an iconic character will lead you to become addicted to this show.
5.

And All the Other Amazing Actors
As the main character, Cumberbatch obviously gets most of the attention, but that does not mean that all of the actors are not as amazing. Martin Freeman as John Watson, Rupert Graves as Lestrade, Una Stubbs as Mrs. Hudson, and Andrew Scott as Moriarty. The list of the incredible actors goes on and on. Each of them embody their characters perfectly and create one of the most outstanding casts out there.
When you have such an incredible show, you inevitably have such an outstanding fandom following the show. They create entire websites dedicated to the show and creating theories about the storyline. When you become a fan of Sherlock, you join an entire army of other fans who love to discuss and invest their time in the show.
If you have ever watched Doctor Who, you know just how frustrating Steven Moffat can be, in the best way possible. He is the executive producer of Sherlock and is the mastermind behind the entire show. He loves to play with viewers and tease them with complicated storylines and connections you never saw coming. He considers his job incomplete until you are screaming his name in fury after watching a season finale. But he is an artist at what he does and Sherlock just wouldn't be the same without him.
I have not met a single person who has watched Sherlock and has not loved it! It is a complete masterpiece that captivates the audience and tells a wonderful story. The relationships, the villains, the costumes, the actors, everything! It all comes together for one of the best shows on television today. What did you think of these reasons to start watching Sherlock? Have you watched the show, and what do you love about it so much?
Sources: neontommy.com, imdb.com
{{#comments_count}} Show Commnents ({{comments_count}}) {{/comments_count}}